Mascenic School District is committed to providing school environments that promote and protect children's health, wellness and ability to learn by supporting behaviors that include healthy eating and physical activity. "Health" is a state of complete physical, mental and social well-being and not merely the absence of disease or infirmity.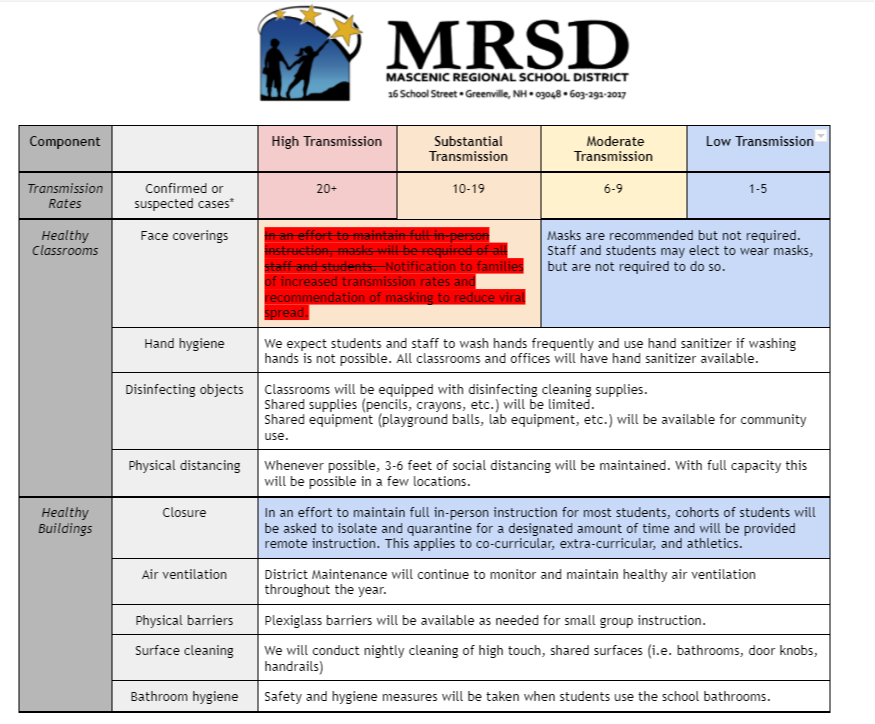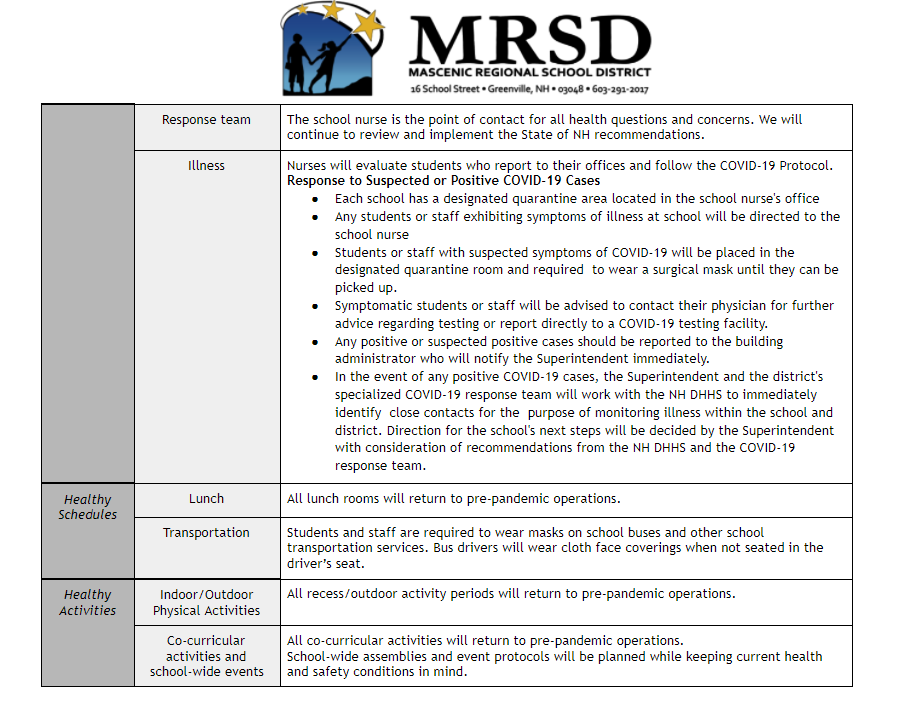 Students must stay home if they are sick, someone in their household tested positive for COVID-19, or are awaiting test results. Please call your school's nurse if you are unsure before sending your student to school. Click the "Stay Home When Sick" document for more information.

Close contacts no longer need to quarantine unless they live in the same household as a COVID positive person and./or can not avoid contact to a COVID positive person. The "Self-Observation Guide" will help you understand what to do if you have been identified as a close contact but do not need to quarantine.

Those that are required to quarantine can find more information in the "Self-Quarantine Guide".

Those who are positive for COVID 19 are required to isolate. More information on isolation can be found in the "Self Isolation Guide".

If you have any questions relating to COVID-19 mitigation or protocols, please reach out to your school's nurse to ask questions.

The Mascenic Regional School District COVID Response Protocol link will provide the districts up to date methods for managing COVID-19 for our schools.
On September 7th the Mascenic School Board adopted a definition of suspected case as follows:
A suspected case is defined as a person who meets the clinical AND epidemiological criteria as outlined below:
Clinical criteria:
Acute onset of fever AND cough; or

Acute onset of ANY THREE OR MORE of the following signs or symptoms: fever, cough, general weakness/fatigue, headache, muscle pain/weakness, sore throat, inflammation of the mucus membranes in the nose, difficult or labored breathing, lack or loss of appetite/nausea/vomiting, lack or loss of smell/taste, diarrhea, altered mental status with no other documented source of symptoms (ie. allergies).
AND
Epidemiological criteria:
Residing or working in a setting with high risk of transmission of the virus: for example, closed residential settings and humanitarian settings, such as camp and camp-like settings for displaced persons, any time within the 14 days before symptom onset; or


Residing in or travel to an area with community transmission anytime within the 14 days before symptom onset.